Best Custom Spray Tan in Hampton Roads

                
Looking to get a custom spray tan?  Look no further! Island Toned Luxury Tanning specializes in healthy, high-quality full body spray tans.  With our airbrush tanning method, we are able to offer longer lasting tans than your typical sun tanning beds.  Our tans last 7-10 day, and the shades are completely customizable to fit your needs! Our formula is also fortified with antioxidants and aloe.  Not only do you avoid the risk of damaging your skin with harmful UV radiation, but our custom spray tans can also help improve the overall health and quality of your skin. If you're looking for the great custom spray, then Island Toned Luxury Tanning is the best there is!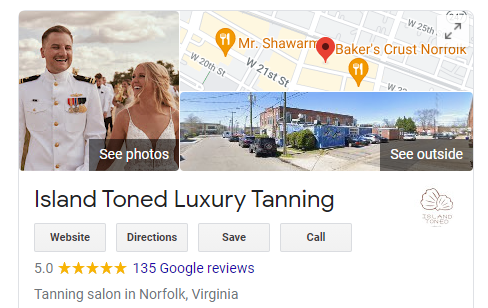 What is an Airbrush Custom Spray Tan?
Airbrush Spray Tans are a relatively new technology to the spray tanning world.  For the longest time tanning beds were the only option for those looking to experience the perfect glow. However, with people becoming more conscious regarding the health of their skin, airbrush spray tan studios have become more popular.  In short with airbrush salons providing the healthier, longer lasting tans.  It has become the obvious choice for the custom spray tanning community.
Your custom spray tan is applied by our trained glow experts with an airbrush spray tanning machine. Our trained professionals are able to identify the undertones of your skin and professionally apply a unique mixology of solutions to obtain your perfect shade.  With the airbrush technique we are able to enhance your glow and achieve the desired results for our clients every visit. Learn More About Our Airbrush Spray Tanning Process
Benefits of Airbrush Custom Spray Tans
1) Healthier
2) Long-Lasting
3) Better Quality 
Custom Spray Tanning Prices
Island Toned offers two premier custom tanning services at our studio location in West Ghent Norfolk, VA.
1) Signature Spray Tan – During this luxury spray session, the shade selection is color matched to complement the client's natural undertone & personal tan desires. Our vegan formula is then hand applied, dried and set by a professional artist within twenty-five minutes.  We recommend you wait at least 6-8 hours for your tan to set before showering. Results will fully develop in 24 hours.  Tans typically last 7-12 days. $95
2) Weekend Express Tan – Have plans tonight? The Weekend Express Tan is the service for you!  Our Express Tan is great for girls on the go and will continue to develop for 24 hours after your shower, leaving you with a natural beach day appearance! We recommend you wait at least 2-4 hours for your tan to set before showering. Results will fully develop in 24 hours.  Tans typically last 3-5 days.  $85 
What's in our formula? 
We offer the Healthiest Tanning option in Hampton Roads. Our spray tan formulas are cruelty-free, paraben-free and enriched with vitamins such as Aloe Barbadensis Leaf Extract, Retinyl Palmitate(Vitamin A), Niacinamide(Vitamin B3), Ascorbic Acid(Vitamin C), and Tocopherol Actetate(Vitamin E).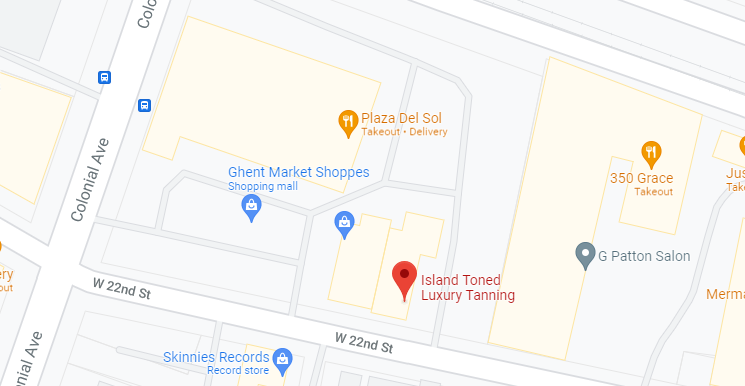 Island Toned Luxury Tanning is located at 2200 W Colonial Ave, Suite 16 Norfolk, VA 23517.  We also offer Mobile Appointments!
Ready to try a custom spray tan? Schedule an appointment today 
Schedule A Consultation
Want to learn more about the benefits of airbrush spray tanning and what steps you can begin to take on your journey to healthy, glowing skin? Schedule a consultation with one of our tanning experts. They will help educate and guide you to the right routine that fits best for you and your lifestyle.